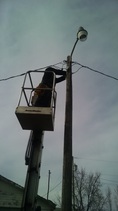 Why do I need a LICENSED electrician?
-
What you can't see CAN hurt you.
Too many times we find work done by a handyman or homeowner that is done improperly. It may seem to work...or work intermittently, but improper electrical work can cause fire, injury and death, and it's often not discovered until it is too late. Electricians in Ohio must be trained for at least 5 years, carry the proper insurance and pass a rigorous exam in order to be licensed. They must know current electrical codes, which are updated frequently, and must receive continuing education every year to maintain their license. If you are having electrical work done, it is important to have a licensed contractor do the work and pull the necessary permits. This protects YOU.
How do I know if my electrician is licensed?
-
You can look up a license to make sure it is active at the Ohio License Board website (
OCILB link)
and all contractors are required to provide their license number in any advertising. You can search by contractor name and by license number. (Frank Innocenzi, OH Lic #44807).
When should I call an electrician?

-If you see sparks, or burn marks on switches or outlets or notice a burning smell near wires. If you notice dimming when appliances turn on. If you need more outlets in a room for running more devices. If you need any work done on a panel box, or breakers are tripping. If you want to upgrade lighting, or add more lighting to a room. If you need power run for a garage, swimming pool or outbuilding. There are many more reasons to call a qualified electrician, and we'd love to help with your electrical needs. Please feel free to call us with any questions.


---